SERVICES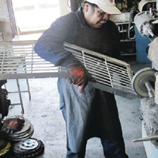 All of our polishing and buffing is done in-house to ensure maximum quality, reduced handling and improved communications between the pre-plate and finishing operations. We utilize the most advanced polishing technology available to ensure consistent quality.
Privately owned and operated by the Bright family since 1963, BEI is North India's largest independent plating facilites. the industry's largest computer automated and high volume plating lines, research & development line, and small volume plating line. All plating lines produce a long-lasting and highly decorative finish using a combination of copper, nickel, chrome etc. For deep and complex, We are leaders in auxiliary anode-assist plating.
We are giving all types of electroplating finishes on aluminium, steel, zinc, brass and stainless steel substrates. Hard chrome, Nickel-Chrome, Satin Nickel-Chrome, Copper, Zinc, Tin, Cadmium, Brass, Bronze, Clear & Colour Lacquer, S.S Electropolishing, Scotch Finish, Passivations, Chemical Colouring etc.